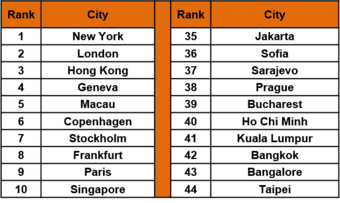 Arcadis cost experts analyzed the relative cost of construction across 44 of the world's major cities.  The results can be round in our latest International Construction Costs Report 2016.
The research found that New York, London and Hong Kong ranked as the world's most expensive cities to build in, with strong currencies and significant resource constraints resulting in higher prices.
Elsewhere, the gradual recovery in the Eurozone has meant that these markets have avoided this high construction inflation. While, in Asia, the Chinese economic slowdown and weakening demand in many cities means that overall growth in Asia is expected to ease as we enter 2016.
Throughout 2015, every construction market saw the overall level of cost inflation restricted due to drops commodity prices. The growing uncertainty over prices will inevitably have a long-term impact on the global construction industry.
The most and least expensive cities for construction according to the index are shown in the table above. (source: arcadis.com)