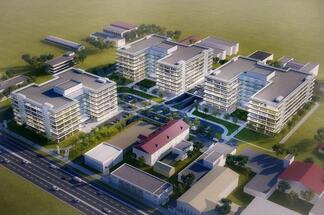 Portland bought last year from Nusco group four hectares plot across the street from the Pipera Traffic Police and appointed this winter the company Apolodor in order to prepare the land for the development of a new business park.
,,We started the project Oregon Park.  We appointed Strabag as general constructor and we will develop in the first phase two buildings with a built area of 78,800 sq. m and a rentable area of 45,000 sq. m", has declaredFlorin Furdui, managing director of Portland Trust Romania.
This will be the fifth and the largest office project developed by Portland Trust on the local market. Robert Neale, a British settled in the Czech Republic, started to invest in Romania 15 years ago, the first project developed being the building Opera Center in the Bucharest's district Eroilor.
He also developed the projects Bucharest Business Park in Piata Presei  and Floreasca Business Park near the metro station Aurel Vlaicu, an area where in the beginning of last year was also completed the project Floreasca Park, where the American group Oracle relocated its headquarters. (Source: zf.ro)