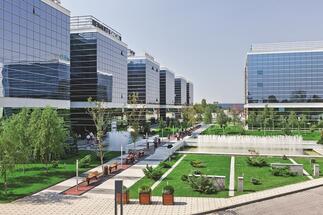 West Gate Business park in the western part of the capital, owned by Genesis Development, signed the fifth consecutive extension of the company Societe Generale European Business Services in two of the five office buildings.
On the back of a 200,000 square meter extension of the office market in 2017, "the fact that a company like Societe Generale chose to extend its offices in one of the Genesis Development parks represents an advantage for us and validates our capacity to serve them to the measure of their expectations," Liviu Tudor, president and founder of Genesis Development.
The contract with Societe Generale European Business Services for the new space entered force at beginning 2017.
Societe Generale European Business Services uses 12,700 square meters of offices out of the 75,000 square meters of West Gate. The lease expires at the end of 2021.
"We continue the development of our operations in Romania by extending the surface of offices with an extra 4,000 square meters, within the West Gate business park, buildings H4 and H5. We decided to extend here, following the quality of services offered and of the support received at every development stage of our company," Phillipe Garcet, CEO of Societe Generale European Business Services.
Societe Generale European Business Services, owned by the French-owned multinational banking group serves at present over 20 countries, largely în Europe. West Gate is one of the largest business parks in Bucharest. Located in the Militari neighbourhood, the park included five office buildings with a total leasable surface of 75,000 square meters.
Currently, West Gate has a 100 percent occupancy and hosts companies such aș Accenture, Alpha Bank, Carestream, Citi, Dacia-Renault, Ericsson, Siemens, Panasonic and WNS. (source: business-review.eu)