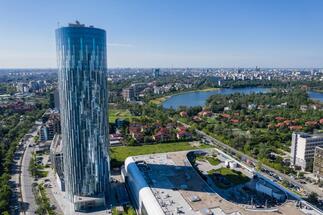 AMS ACCELERATE IT THROUGH PEOPLE SA and Credit Amanet SA signed contracts for a total area of approximately 600 square metres, both office spaces being located on the 9th floor of the tower.

AMS ACCELERATE IT is an IT recruitment company founded in 2007 dealing with the recruitment of specialised staff for clients' projects.
Credit Amanet SA is a joint stock company that dates back almost 15 years on the Romanian market, being the market leader in Bucharest. The company offers short-term mortgage and currency exchange lending services and manages the most diversified trading platform for precious metals, jewellery and luxury products.

"I am happy that AMS ACCELERATE IT THROUGH PEOPLE and CREDIT AMANET have chosen the SkyTower building for their new headquarters, as well as a new stage of development. The fact that we currently have a 100% occupancy rate shows that our investments in refurbishing, improving the common spaces and expanding the facilities in the tower, meet the needs of the market considering the changes in the way we work. Therefore, we are determined to continue to offer a welcoming, creative and dynamic work environment. Plus, the versatility of the list of tenants in terms of surface area and duration of contracts will soon allow the accommodation of new potential tenants with the first negotiations already underway," Florentina Mitricoaia declared, Leasing and Asset Manager, RPHI Romania – the company that owns and manages SkyTower.