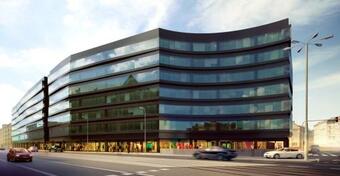 The IT giant had offices at Skanska's Globis and Grunwaldzki Center projects. It is planning to consolidate its operations at the new location. HP took space in both buildings at the Dominikański complex. The deal is the biggest lease agreement signed by HP GBC in Poland. It's also the biggest lease transaction for Poland's regional markets this year.
"The demands of our business, in order to fulfill our daily tasks, requires high-quality office space that meets the highest standards and our specific requirements. While arriving at the decision to centralize two out of three of our offices we knew that Skanska Property Poland, a long-term partner, will meet our needs and prepare an office space that will give us the opportunity for efficient management and constant development," said Agnieszka Orłowska, managing director at HP Global Business Center.
"Our partner's professionalism enabled us to perform the whole transaction seamlessly. We are proud that we could accompany HP's service center in its impressive growth in Wrocław - previously, in Grunwaldzki Center, and today in Dominikanski. This is a great success for us," said Katarzyna Zawodna, president at Skanska Property Poland.
The Dominikański office complex is Skanska's fourth investment on the Wrocław market. The space available for lease in Dominikanski will total 40,000 sqm. The building includes a two-story underground parking lot for 370 cars. The complex will undergo LEED Gold certification. (source: cijjournal.com)