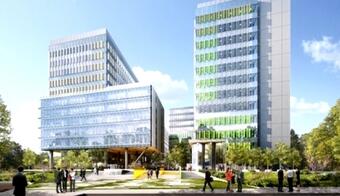 The first phase includes a 12-level office building with a leasable space of 19,500 sqm and an underground parking meant to serve its first two floors. It is currently 90 percent rented to Orange Romania and Schneider Electric Romania, which are set to occupy it starting with the spring of 2015.
Green Court is Skanska's first project in Romania. According to previous reports, the second building in the complex will cover 18,000 sqm, under a contract worth EUR 20 million.
According to the developer, Green Court Bucharest is built using green technologies and sustainable solutions such as an energy efficient façade, increased fresh air input, energy efficient lighting systems and recharge stations for electric cars. The project is set to go through the LEED Gold certification process.
Skanska Romania, part of the Skanska Group, has been present on the local market since 2011.
Skanska Commercial Development Europe develops office buildings, logistic and commercial projects. Its operations are concentrated in the large metropolitan areas of the Czech Republic, Hungary, Romania and Poland. Skanska Commercial Development Europe is made up of four local companies: Skanska Property Czech Republic, Skanska Property Hungary, Skanska Property Romania and Skanska Property Poland.
The Skanska Group employs 57,000 employees in Europe, United States and Central America. In 2012, Skanska posted total revenues of SEK (Swedish crown) 132 billion. (Source: business-review.eu)