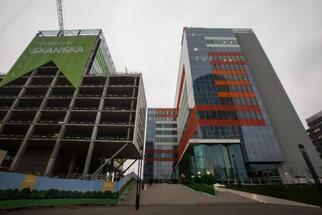 Its main tenant will be the French group Carrefour, which will occupy about 40% of the building, namely about 6,850 sqm. Other tenants include companies such as Sanofi, Adecco, Rinf Outsourcing Solutions, or Colgate Palmolive. The occupancy rate amounted to 72% in July.
The building has 18,000 sqm, distributed over 12 floors above ground and 3 underground floors.
Within the Green Court project, Skanska is developing three buildings with a leasable area of 52,000 sqm on a plot of 15,000 sqm bought in 2012 from the local investor Gabriel Popoviciu.
The project's first building, where Orange and Schneider Electric have their headquarters, was sold last year to the Globalworth group, controlled by Greek investor Ioannis Papalekas, for EUR 44 million. (source: Romania-insider.com)