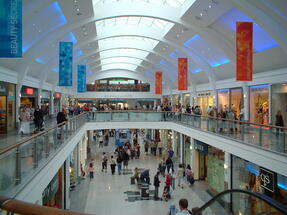 This will take Bucharest to the same level as Hungary's capital Budapest and Czech capital Prague, which have already passed the one million square meters threshold.
"Bucharest is the largest capital in the Central and Eastern European region by number of residents, but it is still lagging behind the most important capitals in the region in terms of modern retail stock. Next year, the situation will become more balanced, once the modern retail stock will reach one million sqm. The projects on the pipeline in Bucharest for 2015 are the largest in the region," said Mihaela Galatanu, Research Specialist at DTZ Echinox.
The modern retail stock in Bucharest is currently 902,000 sqm, comprising 11 shopping centres, 7 retail parks and 5 commercial galleries. Shopping centres account for 54%, while retail parks and commercial galleries represent 35% and 11% from total retail stock, according to DTZ data.
In the spring of 2015, Mega Mall and Auchan Drumul Taberei are set to open, adding 93,000 sqm of extra retail space. Another mall, Park Lake Plaza, is expected to open in 2016. (source: Romania-insider.com)