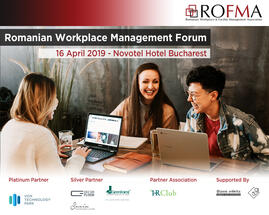 If you are interested in reducing costs by optimizing the space allocated to employees, adapting work environment for generations X and Millennials, increasing the space for teamwork and spreading flexible working patterns
... and want to understand how the work environment attracts and retains talents in the context of the current staff crisis, maintains agile workforce, supports communication, interaction and collaboration, increases the creativity in the organization and generates added value, activates change management, last but not least, supports business strategies
... then participate in the Romanian Workplace Management Forum, where you will find out how to use the work environment to serve the purpose and image of your organization or to initiate beneficial change processes.
INTERNATIONAL KEY SPEAKERS
ALEXANDER ATHANASSOULAS, president and CEO STIRIXIS Group
JAMES ANDREW PINDER, cofounder and director 3edges
PROF. ALEXANDER REDLEIN, Vienna Technological University
VIRGIL TORNOREANU, Managing Partner Vox Property Group
Three of the most important Romanian companies (OMV Petrom, Romanian Commercial Bank and Groupe Renault Romania) will present projects, case studies and good practices related to the working environment.
Who you will meet at the Romanian Workplace Management Forum: general executives, entrepreneurs, facility managers and corporate real estate managers, HR managers, HR Business Partners, building owners, developers and property managers, co-workspace providers, furniture suppliers and work environment equipment, IT solutions providers, architects and interior designers, workplace consultants.
Organizer: ROFMA - Romanian Workplace and Facility Management Association
Partners: VOX TECHNOLOGY PARK | DECOR FLOOR | GREEN FOREST | SUCIU – THE EMPLOYMENT LAW FIRM | HR CLUB | A 57 | ADAPTIVE WORK ENVIRONMENT
For more details and sign-ups, please visit the Romanian Workplace Management Forum page.