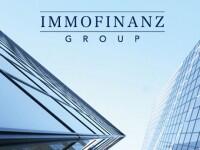 Operations amounted to EUR 21.8 million (31.9 percent of total operations), while operation profit (EBIT) in Romania reached to EUR 34.8 million
The Immofinanz properties in Romania represent 14.6 percent of the company's total portfolio, including 73 properties (17 standing investments, 11 developments and 45 pipeline projects) with a carrying amount of EUR 907.1 million (EUR 649.2 million standing, EUR 28.3 million developments, EUR 229.6 million pipeline). The expected fair value after completion of the current group's development projects in Romania amounts to EUR 117.7 million.
At group level, Immofinanz generated net profit of EUR 132.2 million in the first half of the 2015/16 financial year (H1 2014/15: EUR 3.4 million). This increase was supported primarily by positive effects from property valuation.
The results of operations totaled EUR 68.3 million (H1 2014/15: EUR 155.3 million) and resulted from a decline in rental income to EUR 160.3 million (H1 2014/15: EUR 213.2 million) that was caused by temporary rent reductions in Moscow and the planned sale of properties. Another contributing factor was the increase in other operating expenses to EUR -53.5 million (H1 2014/15: EUR -27.4 million) as a non-recurring effect for the settlement of legal proceedings by investors. (source: business-review.eu)