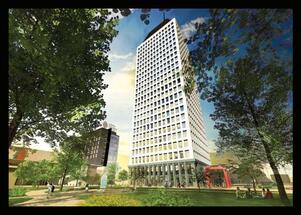 The group will also start the expansion work on the Iulius Mall Timisoara shopping center, which has been integrated in the Openville project.
The three new office buildings will have a gross leasable area of 73,000 sqm and will be ready in 12 to 18 months. They include the tallest building in Romania, a 155-meter office tower.
Per total, the Openville Timișoara project will include seven office buildings with a gross area adding up to over 130,000 sqm. Of these, 18,000 sqm have already been delivered and fully leased, while another 13,000 sqm shall be completed this June.
"The three new office buildings to be delivered within a 12 to 18 months' term, along with UBC 2 (opened this January) and UBC 1 (pending completion this summer), constitute the first phase of development of the Openville project and will shape the main business center in the west of Romania," said Iulian Dascălu, Iulius Group CEO.
Iulius Mall Timisoara will undergo expansion work for an additional 60,000 sqm of retail premises, thus adding up to a gross leasable area of 131,000 sqm, which will turn it into the biggest mall in Romania. On this segment, Openville will include 430 stores, restaurants and themed cafés, multiplex cinema, a fresh market area, the largest playground for children and other leisure opportunities.
In addition to this, the citizens of Timișoara will also be able to enjoy the largest suspended park in Romania spanning on over 55,000 sqm of green spaces, as well as 4,050 underground and multilevel parking spaces.
The total investment in the Openville projects is estimated at EUR 220 million.
Iulius Group, one of the biggest real estate developers in Romania, owns another mixed real estate project in Iasi – Palas, a EUR 260 million investment, as well as four malls under the Iulius Mall brand in Iasi, Cluj-Napoca, Timisoara, and Suceava. The group is also developing an office project in Cluj-Napoca.
Iulian Dascalu is one of Romania's fifth richest people, with an estimated net worth of EUR 450-460 million, according to the 2016 edition of Top 300 Richest Romanians made by Capital weekly financial magazine. (source: Romania-insider.com)