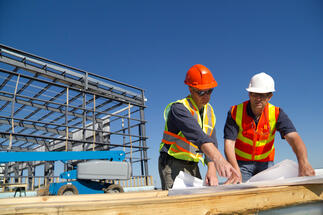 The country registered decreases in all the structure elements: capital rehabilitation works down by 43.5 percent, maintenance works and current rehabilitation decreased by 15.8 percent, while new constructions works by lost percent.
The constructions works volume dropped for the engineering constructions by 37.4 percent. The increases were for the residential buildings by 78.2 percent and for the non-residential buildings by 17.9 percent.
As adjusted series according to the number of working days and season, the constructions works volume dropped by 9.9 percent. Furthermore, capital rehabilitation works fell 48 percent, maintenance and current rehabilitation works lost 7 percent and new constructions works decrased by 3.5 percent.
INS data shows that the constructions works volume dropped in November 2016 compared with October 2016 as gross series, by 2.3 percent.
On constructions objects, the constructions works volume dropped for the engineering constructions by 13.4 percent. The constructions works volume went up for the non-residential buildings by 12.2 percent and for the residential buildings by 8.1 percent. (Source: business-review.eu)