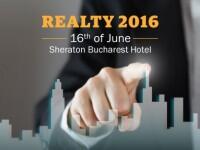 According to Paduroiu, last year Bucharest reported the largest rented surface in the region, excluding Warsaw. "In 2015, in Bucharest there were leased 70,000 square meters, a record figure compared to other capitals, excluding Warsaw. I believe it is very important for us to send the message that Romania is the most attractive market as a business destination in the CEE. We still have under 50 percent Class A sq. meters per capita compared to other capital in Eastern Europe. Rents in Bucharest are the lowest in Eastern Europe. We have a very mature and sustained dynamics of demand and of the local business growth, of the newcomers to the business market. In Romania the building sector is very active, we are an open market, we have a lot of quality office space and we are keeping up with a bigger, more sustainable and more mature demand," Paduroiu said.
Real estate experts present at the conference argued that services and buildings should be customized in order to become more attractive. The supply of office space in the Romanian capital is low compared to demand, in particular when it comes to the location and to the certification of green buildings. According to developers, currently, we cannot talk about a client profile. Reportedly, most companies that are on the lookout for new spaces are active in the banking, IT, utilities, energy and legal sectors. Of late, clients have become more in tune with their needs and are focused on quality, representatives of the real estate sector said.
As far as developers are concerned, they are interested in establishing a better collaboration with local authorities that could potentially lead to better infrastructure projects.
The 15th edition of the Realty – Romanian Real Estate Market Forum was organized by Business Review on June 16 in Bucharest. The conference gathered key players active in the four segments of the real estate market, namely offices, retail, industrial and residential. The purpose of the conference is to provide a platform for talks on the latest trends and the most interesting topics in the real estate sector as well as networking and business opportunities. (source: business-review.eu)