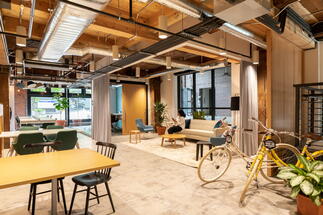 The Spaces concept of productive workspace is based on abundant natural light, clean air, generous room dimensions, abundance of natural plants, ergonomic furniture, relaxation areas and a proper view.
"Before creating the design of a center, our teams discuss with a significant sample of future clients, to understand the specific needs that each community has in order to be productive, and which differs from country to country. In the second stage, mixed teams of interior designers, architects, product designers, graphic designers and psychologists design what we call "moods and atmospheres" internally - the state that the center will create. Step three is the execution that takes into account the psychology of colors, lighting strategies, grouping of furniture elements, upholstery elements that must reflect the style of the building, when it comes to, for example, buildings or areas of historical value", explains Ramona Predescu (Iacob), IWG country manager in Romania.
A productive workspace is an environment that allows a professional to perform a task in the most efficient way possible, while maintaining a high level of well-being.
The concept of productive workspaces implemented by Spaces is based on scientific studies.
One of these is about the impact of natural light on productivity in the workplace. A recent edition of Cornell University in 2018 shows that over 84% of interviewed professionals admitted that when they work in natural daylight environments, they no longer feel tired and the frequency of headaches decreases during working hours. .
Other studies are related to the relationship between natural plants and productivity. Research by Exeter University in the UK has shown the significant impact that green natural plants have on increasing the ability to concentrate and the level of employee satisfaction in the workplace. In addition, a Harvard study showed that green plants in the office doubled the scores of employees on various cognitive tests.
"The Spaces offices in Romania and the global offices maximize the level of natural light, through generous windows, rooftop terraces, balconies that allow people to work in areas with direct access to natural light. At the same time, the plants we use indoors are from controlled sources and we are focusing on local suppliers. We also use many objects made from recycled materials", adds Ramona Predescu (Iacob).
Recreational spaces are also an essential criterion for the well-being of the workplace.
In the Spaces offices the wooden furniture predominates, this being known for its impact on concentration and on the feeling of comfort it offers.
At the level of color selection for the centers in Romania, the options went green, for the offices where they work until late, blue, because it is a color that helps in the process of maintaining concentration, yellow accents in the areas used to trigger creativity.
At Spaces there are generous areas where people can relax, work, just as there is room for silence or private chat rooms, each being created based on a mix of colors that serves the purpose for which it was created.
Spaces offers creative work environments with a unique entrepreneurial spirit in hundreds of locations around the world. These workspaces are designed to inspire people with visionary, innovative and revolutionary thinking who strongly believe in exceeding their goals. Specially designed to encourage creativity, Spaces cultivates ideas by gathering a dynamic community of small companies and entrepreneurs within the same roof.
Spaces is a functional brand of IWG plc: the group that owns a number of top workspace providers. Other brands in the IWG portfolio are Regus, Signature by Regus, HQ and No18. (source: IWG)