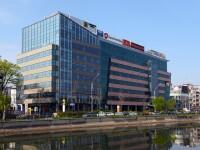 Qualitance was occupying 550 sqm in Opera Center II since May 2014, and has now added another 600 sqm of office space in Opera Center I.
Established in 2007, Qualitance provides consulting services in the development, testing and maintenance of software solutions for both Fortune 500 companies and for startups. The company currently has over 150 employees and has offices in Romania (Bucharest) and the USA (Silicon Valley and New York).
The expansion was assisted by DTZ Echinox, a real estate consultancy company.
Opera Center office project comprising two buildings – Opera Center I with a gross leasable area (GLA) of ​​11,870 sqm and Opera Center II with a 3,484 square meters GLA – is owned by Austrian investment fund CA Immo. The project currently has an occupancy rate of 100 percent, accommodating NN Lease, Glaxo Smithkline, King Games Studio, Stoica & Asociatii, DHL Logistics, Borza & Associates and CEC Bank as major tenants.
Since inception, CA Immo was noted as one of the largest building owners in Central Europe. Its activity focuses on two business lines: property management and real estate development, the group having experience in developing and managing an extensive range of properties, from Class A buildings to complex urban reorganization.
Currently, CA Immo owns five office buildings in Romania: Opera Center I and II, Europe House, Bucharest Business Park and Riverplace, cumulating a total GLA of approximately 106,000 sqm.
The company will begin developing Orhideea Towers Bucharest this fall, located in the center-west of the capital, close to Basarab overpass. (Source: business-review.eu)