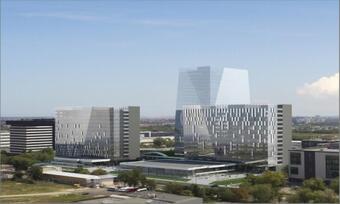 In the end of September, the real estate portfolio of Globalworth reached a value of EUR 967.5 million, placing it on top of the owners with the most valuable real estate assets, following New Europe Property Investments (NEPI) and followed by Immofinanz.
The investor wouldn't have reached this performance without loans. The company's debt rate reached 43.7 pct., after attracting nearly EUR 220 million from third parties in the first half of the year.
Globalworth signed in May an agreement for the sale of bonds secured by real estate assets of EUR 180 million, subscribed by the largest Canadian pension fund, Canada Pension Plan Investments Board and by a series of funds managed by Cairn Capital.
Moreover, Papalekas's company refinanced a loan for the development of the logistics park Timişoara Airport Park (TAP) through a new credit of EUR 29.1 million from BCR and took an additional credit of EUR 10.3 million from Garanti Bank for the completion of the office building on Gara Herăstrău St. in Bucharest. (source: capital.ro)