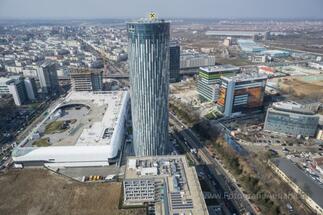 This acquisition came after only several months from the acquisition of the first building of the complex, bought by Globalworth for EUR 44 million.
Through this transaction, Papalekas's company became the owner of half of the office buildings in the `Romanian City`, a zone defined by the crossroad between Barbu Văcărescu Blvd. and Pipera Road. Basically, from the ten office buildings in the area, including Bucharest One and the towe on Gara Herăstrău St. – currently in construction, Papalekas owns five buildings with a total area exceeding 122,000 sq. m, namely half of the total office stock in the area, which is nearly 257,000 sq. m.
The Greek businessman has declared for Capital that he was interested in the acquisition of the entire complex, developed by Skanska on Gara Herăsătru St. The third building will be completed next summer.
Ioannis Papalekas founded in the summer of 2013 and has climbed very quickly to the top of the largest office owners in the country. By a series of acquisitions following approx. EUR 360 million spending, Globalworth surpassed this July the leader for almost a decade, Immofinanz.
The new building developed by Immofinanz across the road from the metro station Pipera would insure them again the leader position, but until the buildings' completion, scheduled for the first quarter of next year, Ioannis Papalekas will deliver already the tower Bucharest One, which is currently in an advanced stage of construction.
Following the completion of these buildings, the difference between the office areas owned by the two competitors will increase from 13 pct. at present, to more than 26 pct. Regarding the rest of the competitors in top five, except for the inheritors of Dinu Patriciu, who do not have concrete plans of expansion, both Liviu Tudor and CA Immo have expressed their intention to develop new office projects, but these would not change the current hierarchy. The Orhideea Towers project of CA Immo will diminish considerably the difference compared to the portfolio of Liviu Tudor, but even if the Romanian entrepreneur would not expand, it will stay at nearly 5 pct. (source: capital.ro)