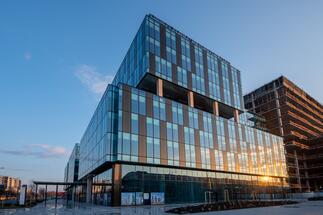 This represents 25% out of the total relocations registered at the local market level in 2020-2022 (2nd quarter) proving once more that One United Properties is a solid developer on the Romanian market, with sustainable growth, a company where office and commercial segments register an important contribution and still have a significant growth potential. This position is much more relevant within a context marked by challenges such as: COVID 19 pandemics, energy crisis, growing inflation or war in Ukraine, events that continue to have an impact for the construction sector.
"The fact that One United Properties reached 103.400 sqm GLA that is already leased, within a context that brought many challenges, confirms once more the strategy we adopted for the real estate sector and our belief that current working spaces need a change. This figure represents 25% of the total contracts registered starting with 2020 until today, and this reinforces our position as an active and prominent player on the commercial sector as well. When choosing their office headquarters, companies are now interested in sanitary and energy efficiency criteria and prefer modern spaces that combine office with wellbeing or relaxation services, while ensuring modern technologies. Our team is constantly innovating in order to provide our clients with a healthy environment workspace, in certified buildings that grant access to a wide range of services, green areas, transportation and that transform the concept of classical office buildings", says Mihai Păduroiu, CEO Office Division One United Properties.
In the developer's current office portfolio, One Tower, which is part of the mixed-use development One Floreasca City, has already reached a 100% occupancy rate, hosting the headquarters for some well-known companies such as CBRE, Sanador, Saint Gobain, CMS, Altius, McCann Romania and others. One Herăstrău Office is, in its turn, 100% leased, with Techventures Bank, Stratulat, Dr. Reddys, DaaS, Skin Expert, Evo Pharm and many other having rented offices there.
By august 2022, One Cotroceni Park Office had signed lease contracts for 83% of its office and commercial spaces in Phase 1 of the development and for 50% in Phase 2, and important companies such as Superbet, DB Cargo, FORD, Siemens Energy, Caroli, Rehau have their headquarters here.
Apart from reaching a great lease level for built spaces, the developer's commercial portfolio was enriched by important acquisitions completed within the past year. One United Properties acquired the majority shares for Bucur Obor, a famous shopping centre and iconic building of Bucharest. This strategic approach confirms the objective of increasing the revenues generated by rents within the global profits of the company. One Victoriei Plaza recent acquisition is part of the same strategy of increasing revenues from the commercial sector, especially within a context of high demand for quality office spaces in Bucharest. Confirming the engagement for bringing historical buildings back into the circuit of Bucharest's reference points, One United Properties acquired this year the former Ford factory located in Floreasca. The developer plans to fully restore it, keeping its beauty and legacy, in order to transform it into a retail space called One Gallery, part of the multifunctional development One Floreasca City.
Following these acquisitions above mentioned, the Group commercial portfolio will reach a gross leasing available area of almost 190.000 sqm by the end of this year, out of which the office portfolio will be of 148.000 sqm upon the completion of One Cotroceni Park Office Phase 2.
All building offices developed by One United Properties are certified or pre-certified WELL Health & Safety and LEED Platinum by US Green Building Council, one of the most demanding certifications regarding impact on the environment and building performance. One United Properties environment strategy includes developing a portfolio of office spaces which are 100% LEED and WELL certified, as well as the engagement that all office spaces newly developed respect LEED Zero Carbon standards.
ONE UNITED PROPERTIES is the leading green investor and developer of residential, mixed-use and commercial real estate in Bucharest, Romania. One United Properties is an innovative company dedicated to accelerating the adoption of construction practices for energy-efficient, sustainable, and healthy buildings. All the company's buildings have superior certifications for sustainability, energy efficiency and wellness, and the developer has been awarded at numerous galas and conferences in the field. One United Properties is the first real estate developer in Romania to be internationally awarded, being the recipient of the "Best Sustainable Residential Development" in the world at the International Property Awards 2019-2020. The company is listed on the Main Market of the Bucharest Stock Exchange, with the symbol ONE and its shares are included in multiple BET and STOXX indices, the FTSE Russell Global All-Cap index, which follows the most liquid shares in the world, and the FTSE EPRA Nareit EMEA Emerging index, which tracks the evolution of companies in the real estate sector in emerging markets.