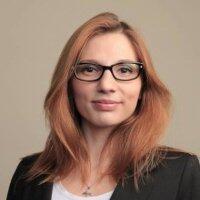 Officerentinfo.com, the leading European office and industrial search network, has added a new member to its Romanian commercial team. The newly appointed Sales Manager, Laura Alexandra Dinescu, will be responsible for building and managing relations with clients, as well as providing customer interface within the company's growing sales team.
Ms. Laura Dinescu graduated Business Administration at the Romanian-British University in Bucharest and has a Master's Degree in Management and Business Communication from SNSPA. Having an overall experience of more than eight years in the sales field, Laura has also worked as a Sales and Marketing Director at Construction Machinery Magazine, the first and the most important magazine which represents the construction equipment and machinery field in Romania. She is fluent in English, Romanian, Italian and French.
This appointment reflects the growing demand of new marketing tools in the leasing process and the leading position of the www.officerentinfo.ro and www.warehouseinfo.ro for commercial real estate in Romania. Officerentinfo.com aims to enhance its presence in the CEE market and dedicate greater attention to commercial real estate across Europe.