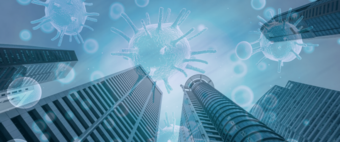 Prime yields in Romania have remained stable throughout 2020 and continue to be the highest in Europe (7% for offices, 6.75% for retail and 8% for industrial). They are expected to remain relatively stable, at least for the remainder of the year and are unlikely to change in the short to medium term.
The current stock of modern office buildings in Bucharest has reached over 3.3 million sqm, with seven buildings, totaling over 120,000 sqm delivered in the first nine months and approximately 40,000 sqm planned for delivery by the end of the year.
Just over 160,000 sqm of office space were rented in Bucharest, in the first nine months of the year, a decrease of 40% compared to 2019. In addition, most of the signed contracts represented renewals and renegotiations. This may be a sign that, although contract rents have not changed significantly, rents are being negotiated much more intensely now than in the pre-COVID period (longer periods of free rent, larger contributions to the fit-out budget from the owners, etc.), the study also states. Many companies, especially those in the IT&C industry – the main generator of demand for office space – are still adopting work from home and will continue to do so, at least until the end of the year. Moreover, some companies have planned to return to the office in the first half of next year.
Despite the unique situation we are in and the strong impact on the economy, the Romanian investment market performed better in the first three quarters of this year, than in the whole year 2019. Although, this is mainly due to the postponement of the most major transactions announced on the market – the acquisition of NEPI's office portfolio by Afi Europe, worth 307 million Euros, initiated in 2019 – the market does not seem to be affected yet by the health crisis.
According to the market report by Crosspoint Real Estate, at least until the end of the year, the effects of the crisis will not be substantially reflected in the real estate investment market. The total volume of investments, in the first nine months of 2020, was over 738 million Euros – an increase of 31%, compared to the same period last year. Investors focused almost exclusively on office projects (93% of the total volume of investments) and were active, especially, on the Bucharest market (85% of the total volume of investments).
Although office buildings remain the preferred option for investors, the sector is undergoing major changes. There is a high level of uncertainty regarding the return of this segment to the pre-pandemic level, given the intention of as many companies as possible to choose the option of working from home for an indefinite period. (source: Crosspoint)