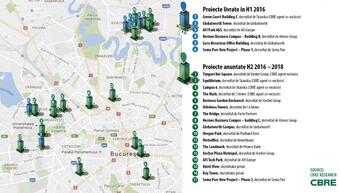 Therefore, in the first half of 2016 were delivered 155,500 sqm in eight real estate project and by the end of the year another eight projects were also announced, with approx. 138,500 sqm.
The largest three projects developed in Northern Bucharest are Globalworth Tower and Gara Herăstrău Office Building, operated by Global­worth, as well as the last building within Green Court Bucharest project developed by Skanska, with a total rentable area of 15,670 sqm.
From the total of offices announced by the end of 2016 68 pct were in Pipera, with a fifth of the new office spaces in Pipera (22 pct) representing the first phase of the Metroffice project developed by Immofinanz.
According to CBRE, by the end of 2018, more than 900,000 sqm are announced in the main real estate development zones (West, Pipera and North).
According to ZF estimations, those project would accommodate 90,000 employees.
Therefore, for 2017 are scheduled for delivery nine office projects with nearly 179,000 sqm. The West has most of the spaces, 34 pct, the largest project in the area being The Bridge, developed by Forte Partners, followed by Pipera, with 31 pct., where the first two buildings within Globalworth Campus will be delivered and the central district, with 26 pct.
The largest real estate project in the central district, representing 68 pct. of the total of the spaces scheduled in this area is Timpuri Noi Square. The project developed by Vastint Group has its completion date the second quarter of 2017.
No tenant has been yet announced for this project, except for Vastint, the developing company. (source: zf.ro)