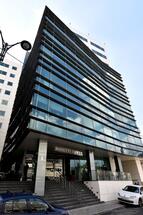 Of the total area of 1,317 square meters, as the total office spaces instant Flash Office centers have, four individual spaces are available ranging in size from 12 square meters to 16 square meters.
"We intend to expand the space of instant office centers in the first half of 2016 due to strong demand recorded in recent months. Most tenants in HUB zone are coming from IT&C and services, while renters of individual instant turn-key spaces, are usually consulting companies", said Dumitru Ilinca, Sales Manager of Flash Office Solutions.
What's available:
• 2 rooms with up to 3 workstations
• 2 rooms with up to 2 workstations
Flash Office Solutions operates in two office buildings, Armand 26 and Maria Rosetti Tower, both with upper class office space instant, located in the central area of Bucharest.
Flash instant center of the Armand 26 building is occupied 100%, at this moment are available only four individual spaces in the Maria Rosetti Tower building.
Flash Office Solutions Centers are enjoying all the services and facilities included spaces - Individual rooms are furnished and equipped with IT facilities.
More details about services and gratuities offered to those who rents an individual instant key space, in a Flash center and of their presentation, including the images found here.
Also, centers members receive permanent discounts  to 25 partners - from restaurants,  gym sports, and business clothing to IT equipment providers, professional translation and legal services. Their complete list can be found here.

Flash Office Solutions Center is a next-generation instant&serviced offices that provide customers for a fixed price,  office spaces fully equipped and furnished for  very flexible periods with all necessary ancillaries services at the highest professional standard. Flash Office Solutions Company was established in 2013 and the first operational location with instant&offices spaces is available in the building Armand 26. The second location in Maria Rosetti Tower is operational from 1 November 2014.
Flash Office addresses both those who need an address to a start-up or a local branch and companies who need an office key in a representative building with a working space and modern IT  & C support secured , wi-fi, receptionist, access to a fully equipped conference hall, but without the hassle and maintenance expenses related. Flash Office Solutions offers to its clients INSTANT & Serviced Offices (custom offices) which, in addition, also ensure access to the kitchen, cleaning and administrative support and underground parking. (Source: Flash Office Solutions)