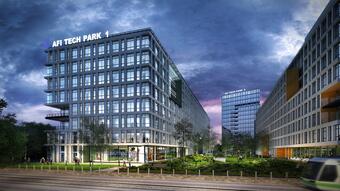 This is the second tenant secured for AFI Tech Park, after World Class, who signed a 10 year lease agreement for 1,500 sqm GLA on the Ground Floor and the 1st floor of AFI Tech Park 1.
1 Minute is an international concept of Quick Service Restaurant that is part of Lagardère Travel Retail's food service business line in Romania and globally. The store offers a quick service and a rich assortment of Fresh products (sandwiches, salads and desserts, fresh fruit juices, dairy and pastries) to customers in business centers and transit areas, complete with a range of Convenience products (tobacco and accessories, books, sweet and salty snacks, refreshments, freshly ground coffee, books and magazines). With the opening of the new 1 Minute in AFI Tech Park, the network of stores for this concept will reach 31 outlets in our country, all operated by Lagardère Travel Retail Romania.
A unique service AFI is providing to the tenants in Tech Park is a 400 sqm conference hall to be shared by the tenants in the park. This allows the tenants to avoid the necessity to have such large halls within their space throughout the term of the lease. Together with the surrounding retail facilities (Vulcan Retail Park, Liberty mall), the office project is bringing additional benefits such as: "AFI Club" membership offering discounts for lunch and other services, and also the first car sharing service in Bucharest
Construction works for AFI Tech Park 1, the first phase of the complex, are advancing on schedule, currently having completed the skeleton structure. The first office building, consisting of 22,000 sqm GLA spread over 8 above ground floors, will open in Q2 2018, offering both office space and retail area (World Class gym, canteen and coffee shops). The investment for this stage of the project is of over EUR 30 million.
The entire AFI Tech Park project will offer 56,000 sqm GLA of Class A offices, comprising of two office buildings with GF+8 and one office tower of 14 floors, all surrounded by over 5,000 sqm of green areas. (source: AFI Europe)