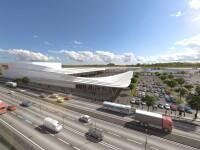 According to a release, the project will have a 70,000 sqm leasable area. Many of NEPI's partners, present in the other shopping centres across the country, will be included also in the project developed in Timisoara.
One of the main attractions of the new mall will be the cinema developed by Cinema City. The Multiplex comprises a total of 14 digital halls with an increased capacity, including one hall equipped with the 4Dx technology. 4Dx is one of the most important innovations in the history of cinema, offering an experience for all 5 senses.
With a total capacity of 2,400 seats and an area of ​​4,000 sqm, the new Cinema City will become the largest multiplex outside the capital.
Carrefour will open in the new mall in Timisoara the first and only hypermarket in Western Romania. The hypermarket is to have an area of ​​10,000 sqm. (source: business-review.eu)