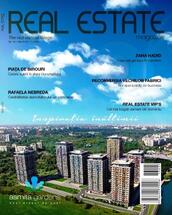 Initially launched in 2008 and suspended during crisis period, the magazine will have a new editorial concept and new graphics.
The editorial director is the entrepreneur Eduard Uzunov, the founder of the company Regatta Real Estate.
"The Real Estate Magazine product is a new challenge for 23 years' worth of experience and activity in the local real-estate market. We want to bring to the same level the most important persons in the real estate, architecture, design, retails worlds. Our challenge is that the magazine will fly off the shelves in the second day of this appearance, in the context of a magazine that only exists in print, without the online. We also want that the print product gathers around it all the big names in the industry, reunited under a common goal: the promoting of the Romanian real estate and of the people working in this field. Also, in the near future we intent to put the basis of an association that monetizes the business ideas in a clean, white, uncorrupted way," said Uzunov.
MTR Press is a media and communication independent company, present in the Romanian market since 2001. The company is active in the glossy publications segment, the online media segment, organizes events and fairs, but also in the custom-made publications area. From its portfolio we can mention Luxury Magazine, Connect and Photo. (Source: business-review.eu)