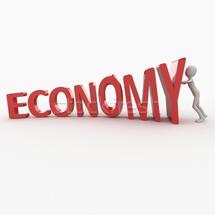 The global financial and euro area crises had led to a substantial deterioration in Romania's government finances, with fiscal deficits growing to an average of 7.1 percent of GDP between 2009 and 2011 (2005-07 average of 2.1 percent), and government debt ratios nearly doubling to 23.6 percent of GDP in 2009 (2008: 13.4 percent).
However, despite a subdued growth outlook and several changes in government, the fiscal deficit was reduced to 3 percent of GDP by year-end 2012, and 2.3 percent of GDP in 2013, satisfying conditions agreed to with the IMF and EU. Moody's expects this reduction to contribute to a stabilisation in government debt ratios, which underpins the return to a stable outlook on the rating. "Our expectation is that the improvement in Romania's macro-economic indicators in 2013 will be sustained," said Moody's analysts Atsi Sheth and Bart Oosterveld in the statement.
Fiscal consolidation has occurred in conjunction with an improvement in other macroeconomic indicators. Inflation declined to 1.6 percent by end 2013 from 5 percent at end 2012, which likely contributed to competitiveness. Export growth accelerated while imports remained subdued, resulting in a narrowing of the current account deficit to 1.1 percent of GDP in 2013 from 4.4 percent of GDP in 2012, and lowering the country's external financing requirements. "Although Romania's external debt remains high, the significant narrowing of the current account deficit – from an average of 10.5 percent in the five years prior to the crisis – has lowered the pace of external debt growth, another factor supporting a stable outlook," according to the rating agency.
The uncertain euro zone economic and financial outlook was a key driver of Moody's decision to assign a negative outlook to the rating in 2012, since about 50 percent of Romanian exports are destined for euro zone countries and a majority of Romanian banks are owned by parents based in euro zone countries. Romania's large external financing needs also exposed it to contagion from financial volatility related to euro zone developments, according to Moody's.
Financial risks related to the euro zone are now abating. In addition, the ongoing recovery in Romania's trade and investment partners is evident in Romania's improved balance of payments metrics and export-driven growth in 2013.
Over the medium term, Moody's expects Romania to continue along the path of income convergence with wealthier EU trading partners, supported by competitive wages and future policy measures to enhance productivity and the operating environment. These developments support a stable outlook on the rating.
On the other hand, the level of non-performing loans in the banking system remains high and credit growth is unlikely to accelerate rapidly enough in the near term to support the levels of domestic-demand growth it did between 2005 and 2008. Although growth rates are unlikely to return to pre-crisis levels over the next two years, Moody's expects the current pace of growth to be sustainable as policy efforts support export competitiveness and investment. Also, still, in the near term, the current high level of foreign currency and external debt exposes government finances to exchange-rate risk and international financial volatility.
"Romania's external debt and debt-service ratios remain higher than the median for similarly rated countries. However, Romanian authorities have met the conditions of their precautionary stand-by agreement with the IMF, which provides access to external financing, in the event that international financial market conditions deteriorate," said Moody's.
Moody's may increase Romania's credit rating once the country shows a pronounced acceleration in GDP growth, an improvement in external debt, lower government financing risks and greater efficiency in the state-owned sector. The country's rating may decline if the government reverses fiscal consolidation or the country's competitiveness declines. Also a worsening of the balance of payments may push the rating down, Moody's said. (source: nineoclock.ro)