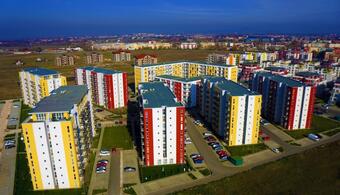 "Last year we bought a 5 ha terrain for the second phase of the project which will include 18 blocks, 1,200 apartments in total, and this year we bought another terrain, on the northern branch, where we will build another 10 blocks meaning 700 apartments. Right now we have 18.4 ha in Avantgarden3", according to Liliana Tene, marketing director for Maurer Imobiliare.
Construction work continues for the first stage, where so far out of 18 buildings 14 have been delivered. Two more buildings will be finished this summer, and by the end of the year another two.
The developer has started construction work on the second phase, with the third scheduled to begin depending on the way sales are going.
"Given the rhythm of sales and high demand, the company has decided to accelerate the project's expansion starting this summer. A couple of weeks ago we started building the second phase. Its development will last for a couple of years. For the third, we will see how sales are progressing and we will decided when to started construction in parallel with the second phase", according to Tene.
Maurer is a German company which started its activity in real estate in 2006. Its first 29-apartment project was built in Cluj and it has another project in development in Sibiu, near Sibiu Shopping City. (source: business-review.eu)