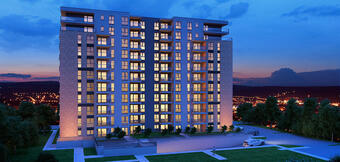 "Once the Cluj popularity has grown among the young professionals who start living in this city, the need of apartments well structured and adapted to the modern family requirements, has grown too. This is the best period from the modern residential market history from Cluj Napoca, with approximately 3,500 apartments to be finished this year in the town and around, higher by 50 percent compared with 2015, " said Anamaria Burca, managing partner at Coldwell Banker Transilvania, the consultant and exclusive agent of Grand Hill Residence.
Moreover, as a result of the high demand registered on the Cluj market, the apartments prices have grown in the last year. In September the prices of apartments from Cluj-Napoca was higher by 13.5 percent than October 2015, according to an analysis made by Coldwell Banker Transilvania.
Luca Prest has an experience of eight years on the Romanian market and it was founded by several engineers with experience in the development of some big projects within Romania, such as the commercial center Iulius Mall din Cluj Napoca, Timisoara, Suceava and Bucharest Mall.
Luca Prest has a portfolio of construction works and special projects such as wind parks, photovoltaic parks, cleaning stations, special consolidations of the buildings.
Coldwell Banker Romania is one of the local real estate consultancies with over 20 residential assemblies and offers also broker and consultancy services. (source: business-review.eu)