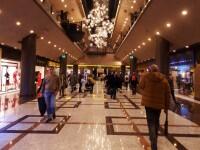 Construction works aimed for eco-friendly lighting systems based on dimmable LED. A 4,000 m band using LED technology and over 2,500 other LED light fixtures help increase the degree of indoor lighting with up to 50 percent depending on the area. Also, 14 chandeliers were installed in the Atrium and Info Center areas.
The company also worked on finishing the hallways, for which 4,000 sqm of marble and granite were used. The interior design pallet of the mall was enriched by solid oak wood and wallpaper covering the indoor load bearing columns and special decorative paints selected for ceilings and walls.
Opened in 2005 and expanded in 2009, Iulius Mall Timisoara has a gross leasable area of over 69,500 sqm and accommodates over 330 stores, restaurants and cafes. The footfall recorded in 2015 amounted to over 15.7 million visitors and exceeded that recorded in the previous year.
Iulius Mall is an integral part of the upcoming Openville mixed-use urban ensemble that the Iulius group is currently developing in the immediate vicinity of the mall. The investment amounts to over EUR 220 million. Openville will comprise: 131,000 sqm of class A office spaces, over 450 stores, restaurants and themed cafes, 15 multiplex movie theater halls, a fresh market area, event halls and entertainment areas.
The works were started last autumn and the first development stage is scheduled to be completed during the last quarter of 2017 (80,000 sqm of class A office spaces, 134,000 sqm of retail spaces and a park spanning  55,000 sqm). (Source: business-review.eu)