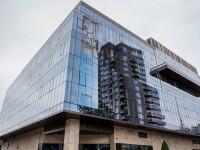 The offices of UBIS occupy 7,800 sqm of the 9,300 sqm gross leasable area of the building. UBC 6 has a 100 percent occupancy rate, according to its developer.
At present, UBIS has 1,500 employees in Bucharest and Iasi. The company is the main tenant of UBC 6.
Its offices were fitted using the smart working concept, which is a new space management vision that favors an enhanced balance between the individual activities, the need for social interaction and everyday life.
"We are honored by our partnership with UniCredit Business Integrated Solutions and we are sure that the new building that was designed as per the highest standards satisfies the requirements of this reputable financial group and that it will become one of its flagship operations centers at a European level", said Iulian Dascalu, CEO of Iulius group, in a statement.
The IULIUS Company developed the United Business Center brand at a national level, including approximately 80,000 sqm of class A office buildings operating in Iasi and Cluj-Napoca cities, and another 130,000 sqm pending construction in Timisoara city.
In the Palasi Iasi complex, the company currently has five office buildings in operation and accommodate around 4,800 people. The firm will finish this year United Business Center 5 building.
The Iulius group is also building a mixed-use ensemble called Openville near Iulius Mall Timisoara, which requires an investment of around EUR 220 million.
Along with the retail, park and entertainment functions, the new complex will also comprise seven class A office buildings, with a gross leasable area of 130,000 sqm, including the tallest building in Romania (155 m and 27 floors). (source: business-review.eu)