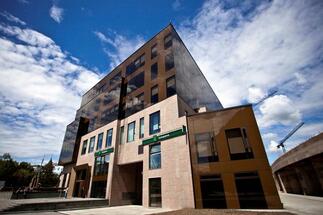 "Last year too, the Palas complex represented the most dynamic business destination in Iași, the place where hundreds of people found their working places. Therefore, in 2015, the number of those working in the four A class office buildings within the complex reached over 3,900. The total increased with nearly 25 pct. compared to 2014, a sign for the expansion plans in Iasi of the companies present in United Business Center (UBC)", a press release of the investor shows.
The number of those working in the office spaces in Palas will increase with 3,000 people upon the completion, in the first part of this year, of the two new UBC buildings, currently in development. UBC 5, situated on Sf. Lazăr St., has an area of 15,000 sq. m on seven floors, with two underground parking levels. UBC 6, situated in the vicinity of the food court area, is designed with an area of 9,000 sq. m and four floors. Through the new investment of the Iulius group, the office component of the complex situated in the centre of Iași will reach 62,000 sq. m rentable area.
Approximately 45 companies have their headquarters in UBC Palas, mostly multinationals in IT and outsourcing fields.
Iulius Group, controlled by Dascălu, owns a retail network including four shopping malls and the the multifunctional urban complex Palas Iași. On the office segment, the company owns more than 55,000 sq. m A class offices in operation, in Iași and Cluj-Napoca.
The company's office portfolio also include two A class office buildings developed in Cluj-Napoca, in the close vicinity of Iulius Mall: Iulius Business Center (7,500 sq. m) and United Business Center Tower (10,000 sq. m), both fully let.
The company started last year the construction works of the second multifunctional complex of the group, in the close vicinity of Iulius Mall Timișoara, an investment exceeding EUR 220 million. Openville will include, apart its retail, park and entertainment functions, seven A class office buildings with a total rentable area exceeding 131,000 sq. m. (Source: profit.ro)