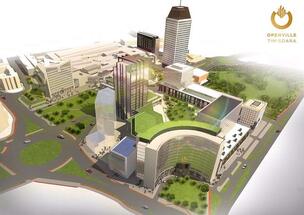 The real estate profit has decreased with 22.4 pct in the same period, down to EUR 8.64 million, as loss of Palas complex in Iaşi accentuated, according to data published by the Ministry of Public Finances. The debts of the businessman's assets reached last year EUR 587.8 million.
Last year, the mall with largest businesses in the network was Iulius Mall Timişoara, registering EUR 20.1 million revenues from rents. The second place is taken by the mall within Palas Iaşi complex. The mall, together with the five office buildings, registered last year EUR 22.5 million turnover, with more than 70 pct. of the complex businesses being represented by the mall. The top ends with Iulius Mall Cluj, with EUR 13.2 million, the mall in Suceava, with EUR 7.34 million and Iulius Mall Iaşi with EUR 4.43 million in 2015.
The revenues generated in 2014 by the renting of the five malls put the entrepreneur in the top of the mall owners in Romania, by outrunning his direct competitor, the South-African fund New Europe Property Investments.  
Apart from the five malls, Dascălu also owns seven office buildings with a total area of nearly 80,000 sq.m, five in Iaşi and two in Cluj-Napoca. Currently, Iulius group is working at the completion of the sixth building near Palas Iaşi and intends to build another seven office buildings near Iulius Mall Timişoara, with a total area of 131,000 sq. m.
The businessman also considers duplicating the concept of Palas Iaşi in Timişoara, near the mall already owned in the city. He will invest EUR 220 million in an urban complex including retail and office areas, as well as the highest tower in the country (155 metres). (source: capital.ro)