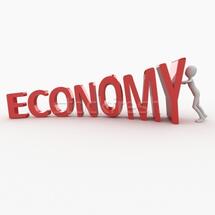 The most important contributions for raising the Gross Domestic Product (GDP) in Q1, 2014 compared to Q1, 2013 came from all economy sectors, except for constructions, financial intermediation activities, insurance and professional, scientific and technical activities, administrative service and support service activities, which recorded together a negative contribution of 0.4 percent.
Higher contributions to GDP growth were recorded by the following sectors: industry (2.3 percent), with a share of 29.7 percent to GDP, its activity volume surged by 7.9 percent; retail and wholesale trade, motor vehicle and motorcycle repair, transport and storage, hotels and restaurants (0.6 percent), with a share of 12.5 percent to GDP and a business volume higher by 5.4 percent; information and communications (0.3 percent), with a lower share to GDP (4.3 percent), but a significant increase in the volume of activity (7.4 percent).
The net taxes on products had a 0.8 percent contribution to GDP increase, with a share of 13.9 percent to GDP, and a volume of activity higher by 5.5 percent, INS reports.
From the point of view of GDP utilization, the growth was due to expenses on effective individual consumption of households, whose volume edged up 6.7 percent, with a contribution of 4.4 percent to GDP increase; net exports (with a contribution of 0.7 percent), a result of a 9.7 percent surge in exports of goods and services correlated to a lower increase in the volume of imports of goods and services (8.5 percent).
INS also noted the positive balance of the balance of payments.
GDP stood at RON 162.66 billion, when adjusted for seasonality, current prices, as estimated for Q1, 2014. In unadjusted terms, the GDP estimated for Q1, 2014 amounted to RON 127.62 billion, current prices, up 3.8 percent in real terms compared to Q1, 2013. (source: nineoclock.ro)