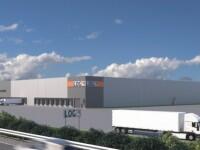 Dynamic Parcel Distribution (DPD) has rented about 4,800 sqm, while Alka Group signed a contract for almost 3,200 sqm of the logistic project and Mediapost Hit Mail leased some 3,500 sqm.
The first phase of LOG.IQ Bucharest, currently under construction will provide about 40,000 sqm modern logistics space, and phases 2 and 3 will deliver an additional 100,000 sqm.
DPD is a courier operator of private postal services in Romania. Starting May 2016, DPD will become a tenant for a period of at least ten years.
Alka Group, Romanian producer in the FMCG industry, will expand its logistics activities in LOG.IQ Bucharest starting with March 2016, for a period of at least five years. This logistic expansion serves Alka's plans of growth, according to its strategy for domestic and export markets.
Mediapost Hit Mail is a relationship marketing company, part of the French Post group, which provides its clients with integrated multichannel marketing solutions that combine marketing, logistics and IT. The company has a lease for a five year term, to coordinate logistics activities from LOG.IQ Bucharest, as of March 2016.
Construction works on the LOG.IQ Bucharest logistic project started in July 2015 and the project is planned to include a total rentable surface of 140,000 square meters. LOG.IQ Bucharest is strategically located just outside the capital, in Mogosoaia. It has direct access to the city and the A1, A2 and A3 motorways, through the ring road. The project also lies close to Henri Coanda International Airport, and 15 km north of Bucharest city centre. The site has its full infrastructure in place, including interior roads and utilities (water, sewage, gas, electricity, phone lines), as well as railway access.
Immofinanz is a commercial real estate company whose activities are currently focused on the retail, office and logistics segments of eight core markets in Europe: Austria, Germany, Czech Republic, Slovakia, Hungary, Romania, Poland and Moscow. The core business includes the management and development of properties. The company has a real estate portfolio of some EUR 6.6 billion that covers more than 440 properties. It is listed on the stock exchanges in Vienna (leading ATX index) and Warsaw. (source: business-review.eu)