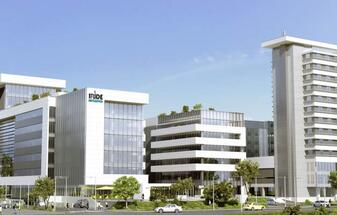 "The economy in Eastern Europe is picking up , so we are preparing to invest more," said Eduard Zehetner, the CEO of Immofinanz Group during a press conference. He added that Romania is presently one "one of the most important markets in the group's development strategy".
The 20,000 sqm (GLA) will be available as a five-storey office building. It will be part of a 40,000 sqm (GLA) development which will be called Metroffice and will require a total investment of EUR 85 million. In addition to office space, Metroffice will also feature a 140-room hotel. Construction has started recently and the first 20,000 sqm will be delivered in the second quarter of 2016, added company representatives.
"This project marks the beginning of a long-term plan to refurbish and expand Iride Business Park into a modern urban sub-center which will be known as Iride City," said Sorin Visoianu, country manager office & logistics for Romania and Bulgaria at Immofinanz Group. This long-term strategy for the project will also involve taking down some of the existing 20 buildings in Iride Business Park, he added. At the end of the transformation process, the project will feature a GLA of 200,000 sqm, most of which will be office space. To this will be added the hotel, retail space and also a residential development whose construction could start in about four years, said Visoianu.
Iride Business Park is located in northern Bucharest, in the Pipera neighborhood. It presently features 93,000 sqm of office space, making it the largest office project the developer owns locally. It was bought in 2004, the same year the company entered the local market.
Immofinanz Group presently owns 16 properties in Romania – 9 office projects, 4 retail projects and 3 logistics parks – totaling some 400,000 sqm (GLA) and having a book value of EUR 965 million. This represents about 13.9 percent of the company's total asset portfolio (EUR 6.9 billion) making Romania its third largest business behind Russia and Austria but ahead of other countries such as Germany and Poland. Overall, Immofinanz Group is present on 8 core markets besides Austria. In Romania Immofinanz Group also owns residential developer Adama.
According to the most recent results the company has made public, revenues from rents were worth EUR 11.6 million for the period May 1 – July 31 2014 (Q1 fiscal year) in Romania, down from EUR 12.6 million during the same period of the previous year, mostly because the vacancy rate for its office projects went up.
At present, the overall occupancy rate for the office projects it owns locally is 77 percent, said Visoianu. Between May and November this year the company has signed leasing contracts for 58,000 sqm of office space, out of which 27,000 sqm – 28,000 sqm represented new leases. (source: business-review.eu)