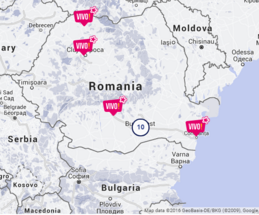 Polus Center Cluj will become VIVO! Cluj, Maritimo Shopping Center Constanta will be known as VIVO! Constanta, Pitesti Mall will become VIVO! Pitesti and Gold Plaza Baia Mare will be named VIVO! Baia Mare. The rebranding of the fully rented shopping centers with a total leasable space of 147,000 square meters will be finalized in 2017.
"Our VIVO! brand stands for a shopping experience for the whole family which meets all expectations of a modern shopping, leisure and entertainment environment. We have a clear focus on building on brands within our portfolio as this is a clear competitive advantage for a real estate company that holds several hundred properties in Europe," says Dietmar Reindl, chief operating officer at IMMOFINANZ.
"Adopting the VIVO! brand represents a natural step for our four shopping centres in Romania, which have enjoyed a constant increase in footfall and occupancy rates. All four shopping destinations record footfall increases of up to two digits on a year-on-year comparison", adds Sorin Visoianu, country manager operations Romania at IMMOFINANZ.
The VIVO! branding process will include a visual identity update and the modernization of interior areas, such as common areas, food court etc. The first stage includes the full visual identity update of the exterior areas of the four shopping centres and is scheduled to be completed by November 2016.
IMMOFINANZ's retail properties in Romania have an overall leasable surface of 147,000 sqm, the equivalent of 12.4 percent of the company's total retail portfolio. (source: business-review.eu)