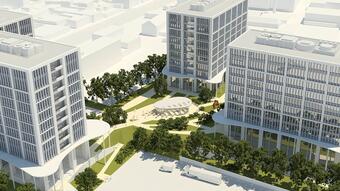 Real estate division of IKEA in Romania has two lands where the company intends to develop office, residential and commercial facilities.
Four years after the acquisition of the land of former Timpuri Noi platform in Bucharest, Vastint received construction permit in December last year.
The land of the former industrial platform, with an area of 53,000 sq. m was bought in 2010 for EUR 34.6 million. The built area of the project will be 150,000 sq. m.
In 2011, Vastint bought two hectares situated in the vicinity of Basarab passage in Bucharest, near Orhideea, for EUR 13 million. The plans include the development of office projects with a built area of 50,000 sq. m. (Source: economica.net)