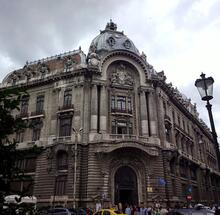 Its price starts from about EUR 8.7 million, reports local Economica.net. The auction will take place on November 12.
The building is a historical monument and is located in downtown Bucharest, near the Romanian National Bank's headquarters. It belongs to Romania's Chamber of Commerce, which regained it in October 2008.
The palace used to be the headquarters of the bourse, then it hosted the National Library. Nowadays it has no specific function, but it hosts exhibition of crafted objects.
The palace, which was once one of Bucharest's most imposing buildings, needs refurbishing. The building's owner opened the Carol I Foundation and tried to attract donations in order to restore the building. However, the institution has changed its plans and decided to sell it. (source: Romania-insider.com)