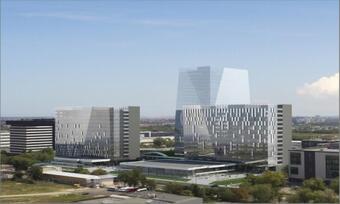 When the firm's current developments will be finished, the value of its portfolio will pass EUR 1 billion, according to a report Globalworth published on the London Stock Exchange.
Globalworth's existing portfolio included 11 properties with a total of 224,500 sqm of gross leasable area (GLA) in office buildings and industrial parks located in Bucharest and Timisoara. The current value of its portfolio is EUR 600 million.
In addition to this, the company has three transactions ongoing which should finalise in the first half of this year, namely the acquisitions of the Unicredit headquarters in Bucharest, and those of Nusco Tower and Green Court Building A. These will increase its total GLA to 282,120 sqm and the value of its portfolio to EUR 752 million.
Globalworth also has four projects in development, the largest of which are Globalworth Campus and Bucharest One. These two projects alone are expected to offer 107,000 sqm of new office space. Upon completion, they will increase Globalworth's portfolio value to over EUR 1 billion.
Most of the company's investments are located in the north east part of Bucharest in the Barbu Vacarescu / Pipera area, which is the fastest growing office hub in the country attracting a significant number of multinational tenants.
"The construction of Bucharest One has reached the 5th floor (January 2015) and is progressing in line with the estimated development plan. For Globalworth Campus, the concept design has been finalized and the company is currently in the final phase of the tender process for the appointment of the general contractor for the construction of Buildings A and B. Construction is expected to start in Q1-2015," Globalworth announced.
The company also plans to develop an 11,000 sqm office building on Gara Herastrau street, next to Green Court, on a 2,434 sqm land plot it acquired last year from Italian group Nusco, as part of the Nusco Tower acquisition.
Globalworth owns land plots with a total size of 9,767 sqm located in two prime locations in Bucharest for future development. The two lands are valued at some EUR 18.1 million. One of the plots is located on Luterana Street in Bucharest. Globalworth paid EUR 7.3 million for it in December.
In addition to these, in December 2014, Globalworth signed agreements for the potential acquisitions of a 28,000 sqm land plot valued at EUR 30.5 million, and a standing office property with GLA of 8,800 sqm valued at EUR 13.2 million, both located in Bucharest. The company is currently undertaking the necessary due diligence on these assets. (source: Romania-insider.com)