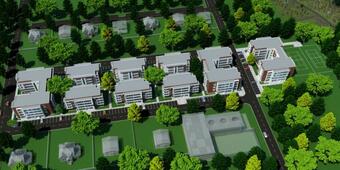 The investor acquired the complex last year from an investment fund via the company Belize Development.
Two of the twelve apartment buildings included in the complex will be completed this spring. The remaining apartment blocks should be finalized by December this year.
The project Belize Residence is located next to the Cernica leisure park, forest and lake, and next to the complex Phoenix Cernica. It includes 178 apartments with one, two, three, and four rooms.
Belize Development, which has been active on the local real estate market for five years, has in its portfolio over 230 apartments, in area such as Floreasca, Petricani, Mihai Bravu, and Pantelimon. Evangelos Poulios is also one of the owners of local fashion retailer BSB, which currently has 22 stores in Romania. (source: Romania-insider.com)