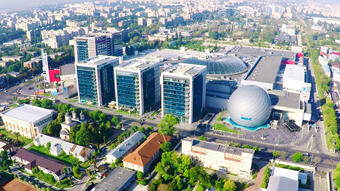 Real estate developer AFI Europe, which is part of Africa Israel group, also owns a mall in Ploiesti and five office buildings in Bucharest and last year started working on another office project in Bucharest.
Globalworth is in the race for Africa Israel, or some of its divisions, alongside Israeli concern Brosh Funds Management and real estate funds Patron Capital and Lone Star, according to Globes Israel.
Israeli billionaire and diamond magnate Lev Leviev, the current controlling shareholder of Africa Israel, also submitted a bid in partnership with businessman Moti Ben-Moshe, Globes Israel reports. They can still submit a revised binding bid at the end of the second stage in the process, if interested.
Israeli investor Lev Leviev owns a 48% stake in Africa Israel Investments, the mother company of AFI Europe, with properties estimated at over EUR 800 million in Romania last year. AFI Europe developed two malls in Romania, AFI Palace Cotroceni in Bucharest and AFI Ploiesti, and is currently working on a third, AFI Brasov. It also developed five office buildings in Bucharest, next to the Cotroceni mall, which it is currently looking to sell. Romanian investors Dragos and Adrian Paval, the owners of the DIY retailer Dedeman, are said to be interested in buying these five buildings.
London – listed Globalworth owns a portfolio of almost EUR 1 billion in Romania. In 2014 and 2015, it acquired four office buildings in Bucharest, reaching a portfolio of over EUR 931 million. The four buildings bought were the first two buildings of the three-building project Green Court, developed by Swedish group Skanska, Nusco Tower, and UniCredit Tower. The developer has 15 properties in Romania, 14 of which are located in Bucharest and one in Timisoara. Growthpoint, the largest South African real estate company, acquired at the end of last year a 26.9% stake in Globalworth, BusinessDay reported.
British fund Patron Capital also invests in Romania through real estate developer Tagor, which is getting ready to develop this year the second phase of its residential project Adora Park in Arad. The developer also owns two residential projects in Bucharest, Adora Urban Village in Bragadiru, and Adora Pipera, as well as a project in Timisoara, Adora Forest.
Global private equity firm Lone Star is the biggest shareholder of Polish developer Global Trade Center (GTC), also present in Romania. Lone Star attempted in April 2015 to raise its stake in GTC from 32.5% to 66%, but the offer was dismissed, Bloomberg reported. In recent years, GTC has been trying to divest its non-performing shopping malls portfolio, while looking at office project acquisitions. Starting with 2012, the developer has been trying to sell the malls built in Romania under the Galleria brand. Most recently, in September 2016 it sold Galleria Arad to local Casa Suprema. Also in 2016, it paid EUR 32 million for two Bucharest office buildings, Premium Plaza and Premium Point.
Africa Israel was looking last year to settle a debt with bondholders for the second time since 2010, Reuters reported. It posted losses of some EUR 639 million in the first nine months of 2016, according to local Economica.net. Also last year, Leviev bought for EUR 135 million the majority stake in AFI Development, a real estate development company operating in Russia and CIS, from Africa Israel. AFI Development was impacted by the weak Russian economy, while Russian bank VTB called for the early repayment of a USD 611 million loan to AFI Development for projects that included the AFI Mall in Moscow, according to Reuters.
According to Globes Israel, Hagag Group Real Estate Development also made an offer for Africa Israel, but it didn't go through in the second round of the bid.
Israeli businessman Lev Leviev has an estimated fortune of USD 1.17 billion, according to Forbes and is the 15th richest person in Israel. He is known as the "King of Diamonds" for the diamond outfit he owns and operates in places like Angola, South Africa and Botswana.
The investment house Epstein Capital is in charge with the bid process for Africa Israel. (source: Romania-insider.com)