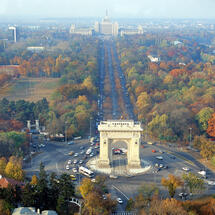 Renault, Hewlett-Packard and Oracle are offered as examples of companies that have invested and won in Romania.
However, the improved environment in Bucharest did not help when the global crisis first took hold. Despite seeing fast growth in the run-up to Romania's accession to the EU in 2007, the country went into a deep recession in 2009.
The good news is that the capital city appears to be moving into a recovery relatively early, certainly compared with Budapest in neighbouring Hungary, writes Financial times.
"Bucharest, maybe even more than other markets , shows a huge gap between prime, central locations, where vacancy rates are under 10 per cent, and the less favoured sub-markets, where a third of space can be vacant," says Ingrid Gratzer, market researcher with Erste Group Immorent, the real estate financing and development arm of Austria's Erste Bank.
Gratzer points to the Pipera and Baneasa sub-markets, which had frenzied building activity earlier, but where today leasing is limited due to a lack of infrastructure.
"The vacancy rates in these areas are the highest in Bucharest, at 35 per cent," Ms Gratzer says.
As usual with articles that commend Romania and Bucharest as viable investment destinations, the author brings to attention the problems that local society still has with infrastructure and the unstable socio-political environment.
"However, Romania still lacks adequate road and rail infrastructure if it is to fulfil its economic potential. (…) The Government should provide a more stable political environment, including better, co-ordinated support for companies considering investments in Romania." says Gijs Klomp, managing director of JLL, the property consultancy, in Romania. (source: business-review.eu)