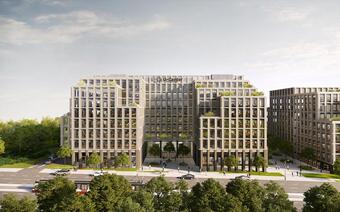 The second phase of the U•Center project in the city's Tineretului area has a GLA of 35,000 square meters.
In 2023, leases were signed in U•Center 2 for more than 25,000 square meters of office space and 2,600 square meters of retail space.
"We are proud to announce the completion of the second phase of the U•Center project, in a market context characterized this year by a significant drop in deliveries of new office space," said Geo Mărgescu, CEO and co-founder of Forte Partners.

The first phase of the U•Center office project, which was sold to Pavăl Holding in November 2022, was completed in the third quarter of 2021. It is fully leased by clients such as Booking Holdings, Endava, Lensa, Up Romania, BT, Neuroaxis, and DCS plus.
Forte Partners, founded in 2014 and owned by Geo Mărgescu, Johny Jabra and Jihad Jabra, is one of the most important real estate developers in Romania. The company has so far developed a portfolio of projects worth over EUR 450 million, both on the office and residential segments.
Previously, Forte Partners developed the Ștefan cel Mare Building, The Bridge office project, the Londra 27 residential project, and finalized the Aviației Park residential project. It had developed the Sector 0 Initiative – Millo Offices and Tandem, premium office projects for the creatives downtown Bucharest, and U•Center Phase 1.