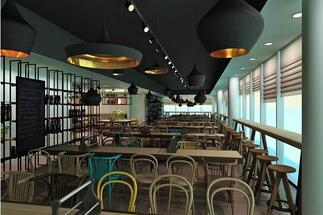 The new restaurant will be opened in the ground floor of the building, introducing the concept of "live cooking", where the clients could witness the preparation of different dishes.
"By now, Flavours focused on leisure, but we are now targeting the time spent in the office, which in fact represents over 75 pct of an ordinary day. We developed here an entirely new concept on the Romanian market, where we will focus on Street Food. We will have for the first time a live cooking area, including a Robata Grill and a Tandoor Oven. I've been myself in a new "tri" to London for an on-site training with the experts in the field. The design of "Stradale" – the name of the new location – was made by our friend and partner, Mihai Popescu, involved in all Flavours-Fratelli spots by now - Biutiful, Fratelli Lounge, Bistro, Espresso Bar and the new spots we have in plan. We are not forgetting about the after hours, nor the private events for BBP's tenants", has declared Chef FOA, Executive Chef Flavours Food Design.
An essential factor which has contributed to the transaction was the owner of the building's availability to make a series of considerable investments in order to facilitate the implementation of the new restaurant's concept such as redesigning of the ventilation system or rethinking of the existing spaces for the live cooking sessions.
The office building Bucharest Business Park, owned by CA Immo, is situated in the close vicinity of Bucharest's Piata Presei Libere, having a total rentable area of 27,000 sq. m. The building includes tenants such as IBM, Coca Cola, Amgen, NNDKP, BAT, Sony, Astrazeneca, MSD, 3M, Carpatcement, Eli Lilly. (Source: dailybusiness.ro)