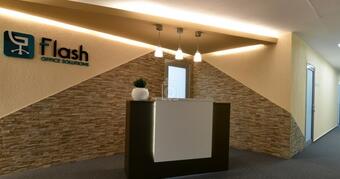 ´As a result of the expanding home-office business, the current market trend is towards reducing the rental costs. The year 2020 meant many challenges for all business branches, with plans and budgets continuously rebuilt in order to reposition themselves according to the challenges of the ongoing crisis. Flexibility is the key-word for the year 2021, and FLASH OFFICE SOLUTIONS provides customers service packages adapted to the new market normality´, announced today Flavius Tarta, Sales Agent of the company.
Among other things, FLASH OFFICE SOLUTIONS offers a one-month discount to customers who sign a contract in January for a period of at least 12 months, Tarta said. The offices, fully furnished, covering a total area of 784 square meters are located in Maria Rosetti Tower in Bucharest and can be operated as co-working spaces in a HUB, respectively as individual offices.
In addition to the usual high standards offered at a low cost, the company complies with the highest hygiene standards: the common areas - doors, handles, elevators, kitchens, common areas - are disinfected several times a day.
FLASH OFFICE SOLUTION's current offer includes:
INDIVIDUAL OFFICE - for clients who want a private workspace. The customer can customize the space. The offer includes the possibility of setting up a registered office.
● Office with a maximum of 2 workstations - 13 sqm
● Office with a maximum of 3 workstations -16 sqm
● Office with a maximum of 8 workstations - 30 sqm
● Office with a maximum of 10 workstations - 41 sqm
Flash HUB co-working space - is a low costs flexible variant, addressed especially to start-ups active in the field of engineering, IT, technology. Companies have the possibility to set up a registered office.
● A common room with a maximum of 10 workstations
The contract includes the following FREE advantages:
· official office registration address
· fully furnished (desk, chair, roller box, hanger, trash can)
· unlimited access to the kitchen (coffee, tea, water, sugar)
· maintenance for water, electricity, gas
· daily cleaning staff
· collection and notification of received correspondence
· access to printer, scanner and copy machine
· IT support
· free access to the meeting room (flipchart, magnetic board and markers, telephone with the possibility of organizing teleconferences, IT support, Internet / wi-fi)
· 100 Mbps Internet connection
· outdoor display of the logo
· 24/7 security and permanent video surveillance and card-based access
· each member of our centers receives a free Flash Office card - INSTANT OFFICE BENEFITS through which he/she has access to services and products at a discounted rate (between 10 and 20%)
Flash HUB coworking space - part time. The offer includes a common room with a maximum of 10 workstations. It is addressed mostly to companies whose employees work mainly in home office. The package of services offered includes 5, and respectively 10 days per month.
For clients who work only in the home office system, we offer Virtual Office services.
A Meeting Room that can be booked for a maximum of eight hours a day is available for a maximum of 3 people - in accordance with the new rules against the spread of Covid19 -, provided with the usual facilities for offices rented permanently.
FLASH OFFICE SOLUTIONS offers to the customers professional services in various fields, at affordable prices, the following specialized services: staff recruitment and leasing, IT supply, payroll and human resources, accounting (document registration, balance sheet statements, electronic signature, communication with ANAF), establishment of companies. Our clients are active in the fields of IT, consulting, software, engineering, medicine, online marketing. (source: FLASH OFFICE SOLUTIONS)