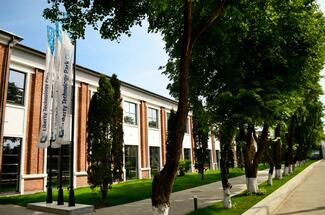 Following this new contract, the first phase of Liberty Tehnology Park is fully let. This phase has an area of 5,600 sq. m and was completed in the end of 2013. The first phase of the technologic park includes the headquarters of the companies Halcyon Mobile, Recall, La Casa, Makronetz, Ecuson Studio, Spherik Accelerator, Tulemod and Siemens ( to relocate in August). "By the date of 1st of August 2014 the first phase of the park will be fully occupied. The companies showed an increasing interest for the second phase too, where we have signed pre-contracts for 30 pct of the area. The spaces will be occupied in December 2014 and January 2015", has declared Nina Moldovan, the company's CEO.
The developer, Fribourg Capital, will also deliver this year the second phase of the project, to include more than 13,400 sq. m of office space in two buildings. The area per floor in the second phase will be 3,600 sq. m. The works for the second phase will start in June.
At the same time, the green area is currently in development, with the correspondent first phase landscape being designed on 13,250 sq. m with multifunctional sport fields, a garden and bicycle tracks. The technologic park on the former Libertatea factory plot had an investment exceeding EUR 10 million by present.
In Cluj there are scheduled for delivery 50,000 sq. m office spaces, according to JLL. "The city's dimension, the modern infrastructure and the lower costs attract an increasing number of investors. The real estate developers have seized this opportunity and they will deliver more than 50,000 sq, m of new office spaces this year only", previously said Andrei Vacaru, head of research & consultancy within JLL.
Main deliveries announced in Cluj for this year are according to JLL the first phase of The Office, developed by Ovidiu Sandor and NEPI (19,000 sq. m) and opened last week, the second phase of Liberty Technology Park (13,400 sq. m), developed by Fribourg Development, United Business Center Tower (10,000 sq. m), developed by Iulius Group and the second phase of Cluj Business Center (8,000 sq. m), developed by Felinvest. The new developments will add to an office stock estimated by DTZ Echinox to 150,000 sq. m offices. The office stock in Cluj is estimated to souble by 2016, considering the projects currently in development. (source: wall-street.ro)