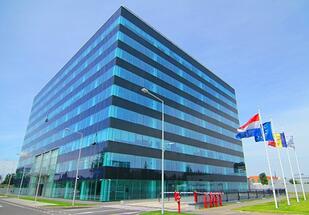 More and more Romanians are aligning to the global trend and gradually give up working on a fixed schedule, between the 4 walls of a classic office. It becomes more and more clear to them that, in order to be successful and productive, it is important to meet the requirements of your business and to be permanently in touch with, and present in, professional working areas, where and when your business requires it.
The extension of Regus in Romania, together with the opening of the new Hermes center in Bucharest, Pipera area, reveals that more and more Romanians choose flexible solutions, understanding the significance of this development and adjustment in order to grow and become more successful, whether they are large corporations or startups, Romanian or foreign owned companies.
Advanced technology and connection, wherever it is necessary
The new location includes a Business Lounge, located on the ground floor of the building, has a total capacity of 125 work stations and 2 conference rooms, perfectly equipped from a technological standpoint, always prepared for you to start working.
Comfortable access options for increased effectiveness
Located in one of the most well-known business areas in Romania's capital, Hermes Bucharest is located 10 minutes away from the Central Business District (CBD) and offers easy and comfortable access options in order to streamline the working hours for all of its tenants: it is connected to the national road DN1 and to means of public transportation. In addition, the premises offer its tenants guarded outdoor and underground parking areas, so that everyone may focus on their business rather than the organization issues. The glazed modern building is close to residential areas but also surrounded by businesses of all sizes, in areas such as IT, banking, financial and security.
National extension of Regus in Romania
With the opening of Hermes Bucharest center, Regus now has a network of 5 business centers, located in key business areas in the capital: Rosetti Square, Charles de Gaulle Square, Floreasca Area, Pipera Area and Montreal Square (World Trade Center). Given the increasing demand for flexible working systems both in Bucharest and at a national level, Regus includes in its development plans for the near future, that of opening new business centers in other representative cities in Romania: Cluj, Timisoara, Iasi and others.
Ramona Iacob, Regus country manager in Romania, declares: "Regus Romania is developing and the demand for flexible working solutions is increasing. Regus targets all client areas, from startup companies to corporations. We can accommodate in our office spaces various types of clients, various demands, from 1 person to several dozens of persons. We can also offer effective solutions in terms of space and costs, through other Regus products, such as virtual offices, co-working areas or access cards to our Business Lounge, areas, meeting rooms and part-time offices. "
The event during which the new Regus business center will take place at Hermes Bucharest –5-7 Dimitrie Pompeiu Bd., District 2 – on February 18th, 2015, starting from 19.00 hours. Among the guests of the event are important representatives in the real estate area, business area, current clients, collaborators, etc., as well as key persons in the national and international structure of Regus: Ramona Iacob, Regus country manager in Romania and Katerina Manou, regional general Manager for the Balcani area.
Regus is the global workplace provider.
Its network of more than 2,000 business centres in 104 countries provides convenient, high-quality, fully serviced spaces for people to work, whether for a few minutes or a few years. Companies like Google, Toshiba and GlaxoSmithKline choose Regus so that they can work flexibly and make their businesses more successful.
The key to flexible working is convenience and so Regus is opening wherever its 1.8 million members want support - city centres, suburban districts, shopping centres and retail outlets, railway stations, motorway service stations and even community centres.
Founded in Brussels, Belgium, in 1989, Regus is based in Luxembourg and listed on the London Stock Exchange. For more information, please visit: www.regus.com (source: Regus)