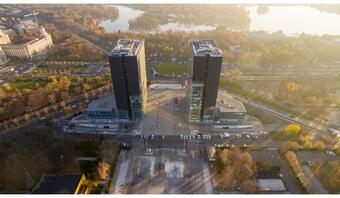 Now in its second edition, the report underlines the fact that 88% of the company's portfolio has environmental certifications and marks the success of GTC Group's "green" Eurobonds in 2021. The report provides unique industry data on GTC's commitment to sustainable development, responsible construction and asset management, collaboration with local communities and the company's response to the expectations of all stakeholders. Over the past year, GTC has significantly improved its operations in terms of environmental impact.
Thanks to the technologies used and the introduction of green energy, the Group reduced the carbon footprint of office buildings by 62% in Romania and by 44% in Poland. Water consumption was 301,815 m3, 7% lower than in 2020, and there was also a 7% reduction in waste (10% LfL). Total energy consumption in GTC buildings and headquarters is 789,444 GJ (219,290 MWh), 14% higher than in 2020. Total electricity consumption (LfL) in GTC buildings and headquarters is 128,464 MWh, almost the same level with the value recorded in 2020 (0.1% less). The annual CO2 emission per m2 of building area was 132 kg CO2e/m2 compared to 145 kg CO2e/m2 in 2020. Detailed information is presented in Chapter 5 of the report: "Summary of ESG results".
GTC has made a long-standing commitment to build properties that center people's experience and environmental protection in all its markets in Central and Eastern Europe, equipped with the latest solutions that meet the strict requirements of the industry. Last year was very important for GTC, as all the company's offices in Romania and Poland are now powered by green energy, while the local offices are also involved in environmental protection activities.
In 2021, GTC obtained and renewed green certificates for 18 buildings, and in 2022 another 12 were added to them. Currently, 88% of GTC's portfolio, with a total value of EUR 1.7 billion, holds green certificates environment, while all other buildings are undergoing certification. "Our business strategy is based on the principles of sustainable development and we strive to manage our assets in accordance with ESG best practices. In 2020, we committed ourselves to disclose non-financial performance in accordance with the highest industry standards to provide information on management and ESG results in a credible, transparent and comparable manner, and also to engage in process stakeholders. As a responsible investor and a good neighbor to our local communities, we present the 2021 ESG report as proof of our commitment to this mission.
"On this occasion, I would like to thank our extended GTC family: employees, tenants, shareholders, business partners and local communities throughout CEE for being with us on this journey", says Zoltan Fekete, CEO and Chairman of the Board of GTC administration.
2021 was a decisive year for the GTC Group, after it issued Green Eurobonds under the Green Bond Framework, which enabled it to refinance secured loans and deliver new sustainable projects. The issue of benchmark bonds worth 500 million euros was made possible thanks to the company's performance and prospects, its commitment to sustainable development and business conduct aimed at protecting the environment.