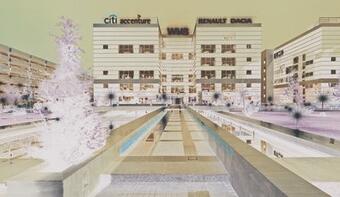 Ericsson Romania has relocated its activity in the office complex West Gate in 2008, when it rented an area of 4,000 sq. m. The company expanded ever since in three of the five buildings within the business park, the most recent expansion bringing along the offices consolidation.
Starting this autumn, Ericsson will expand with 4,000 sq. m its area occupied in West Gate, from 12,000 to 16,000 sq. m, consolidating its activity in two building where it will occupy six floors in total.
"On the office market, the relationship between the tenant and the owner extends on at least five years. In this period, the companies' business evolves and this is the reason why, as an owner, we should prove flexibility in order to cover all their demands. The collaboration with Ericsson is one of the best examples: we are focusing both on the possibility of expanding the occupied area and on the consolidation of the operations for a better efficiency", has declared Liviu Tudor, president of Genesis Development.
Besides expanding its area, Ericsson has also extended its lease by 2019, the lease period totalizing 11 years. Following this expansion, the occupancy rate of Wes Gate has increased to 96%. Other important recent expansions were Société Générale (from 2,500 to 5,000 sq. m) and WNS, one of the largest BPO services suppliers (from 1,500 to 4,000 sq. m)
The companies with offices in West Gate also include Dacia Renault, Siemens, Accenture, PPD (Pharmaceutical Product Development), Panasonic, Citibank, Alpha Bank, Carestream Health and Medicover.
West Gate, situated in Militari district of Bucharest, in the vicinity of Preciziei metro station, includes five office buildings with a total rentable area of 75,000 sq. m. (Source: wall-street.ro)