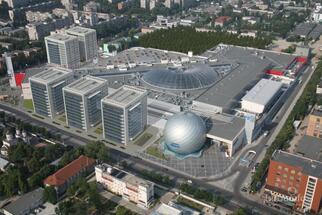 The new Endava office in Bucharest, located in AFI Park, Building 3, covers an area of ​​over 5,000 square meters across 4 floors (9, 8, 7 and 6). The setup of the new office was carried out around an "outdoor activities" theme and new elements have been introduced to better organize the workspace: more break-out areas, four game rooms, two discussion areas decorated in a relaxed manner on each floor, workspaces with plenty of natural light for each employee, high-end materials for lighting and soundproofing, improved ventilation system / clean air filtering and conditioning air filter clean and conditioned.
"Our company is in a continuous expansion and we are happy to have found in AFI Park the office project which can accommodate our needs. The relocation from AFI 1 will ensure the capacity to grow our team in Bucharest up to 650 people" commented Radu Grosu, delivery director for Endava's office in Bucharest.
Since the opening of the delivery centre in Bucharest in 2012, Endava has employed more than 100 people each year.
Endava offers career opportunities for both graduates and IT specialists, particularly seeking people who have knowledge of Java, .NET, PHP or Mobile Development, Business Intelligence, Test Automation, and people specialized in certain specific technologies such as Scala, Message Broker, Ruby, Oracle IAM or Siebel. In Romania, the company had revenues of over EUR 37 million in 2014, up 40 percent compared to the previous year, and now employs over 1,350 people across three delivery centres: 361 in Bucharest, 669 in Cluj-Napoca and 327 in Iasi.
Headquartered in London, Endava has offices in the UK, USA, Germany, Romania, Macedonia, Moldova and Serbia and posted an annual turnover of EUR 127 million in the financial year 2014/2015. (Source: business-review.eu)